A native of suburban Washington DC, Dr. Earle is a specialist in the history of the antebellum United States. Educated at Columbia (BA) and Princeton (MA, Ph.D) Universities, he is the author of numerous books and articles including Jacksonian Antislavery and the Politics of Free Soil(UNC Press, 2004), winner of the Society of Historians of the Early American Republic's 2005 Broussard prize and co-winner of the Byron Caldwell Smith Book Prize; John Brown's Raid: A Brief History With Documents (Bedford/St. Martin's Press, 2008); The Routledge Atlas of African American History (Routledge, 2000) and co-author of Major Problems in the Early American Republic (Cengage, 2007). In 2013 the University Press of Kansas published his edited collection Bleeding Kansas, Bleeding Missouri: The Long Civil War on the Border, which was named a Notable Book by the Kansas State Library. Dr. Earle is currently working on a book on the election of 1860 for the Pivotal Moments in U.S. History Series published by Oxford University Press.
Freddi Williams Evans is an arts education consultant and the author of Come Sunday: A Young Reader's History of Congo Square and Congo Square: African Roots in New Orleans, which received the 2012 Louisiana Endowment for the Humanities Book of the Year Award and has been published in French. Her research and advocacy for Congo Square influenced the New Orleans City Council to pass an ordinance in 2012 that made the popular name, "Congo Square," the official name of the national landmark. Along with numerous essays, her speaking engagements include presentations in France (Paris, Aulnay and Bordeaux) and Senegal (Dakar and St. Louis) sponsored by the American Embassies in those locations. She participated in Fulbright Teacher Abroad programs in Zimbabwe, South Africa and Japan and additional study-travels in Ghana, Haiti and Cuba.
Evans is an award-winning author of three historically based children's books, Hush Harbor: Praying in Secret, The Battle of New Orleans - the Drummer's Story, and A Bus of Our Own. Her numerous recognitions include, New Orleans Arts Council Community Arts Award and a Mardi Gras Indian Hall of Fame Award. She is a native of Madison, Mississippi and holds dual degrees in music and psychology from Tougaloo Collage, Tougaloo MS and a graduate degree in creative arts therapy (music) from Hahnemann University, Philadelphia, PA.
Dr. Phebe Hayes, a life-long resident of Iberia Parish, retired from the University of Louisiana at Lafayette after 26 years of service (Professor of Communication Sciences & Disorders, 1986-2013; and Dean of the College of General Studies, 1998-2013). Dr. Hayes is the descendant of West African ancestors who were enslaved on local plantations. Four of her ancestral grandfathers fought for their freedom as members of the United States Colored Infantry (USCI) formerly, the Corps d'Afrique, and one fought as a member of the Union Navy. Following retirement, Dr. Hayes began researching the history of African Americans of Iberia Parish from the pre-colonial Louisiana period to the end of the Jim Crow era of segregation. What she found was exciting and demanded to be shared with the Iberia Parish community.
Robin McDowell is Ph.D. Candidate in African and African American Studies at Harvard University. She holds an A.M in History from Harvard University, an M.F.A. in Design from the University of Texas at Austin, and a B.A. in Fine Arts from The University of Pennsylvania. She is a History Design Studio Fellow at the Hutchins Center for African American Research and currently co-convenes a workshop for new ideas in multimedia history.
Photo Credit: Marisa Rebecca
Dread Scott makes revolutionary art to propel history forward. He first received national attention in 1989 when his art became the center of controversy over its transgressive use of the American flag while he was a student at the School of the Art Institute of Chicago. President G.H.W. Bush called his art "disgraceful" and the entire US Senate denounced and outlawed this work.
His work has been included in exhibitions at MoMA PS1 (New York), the Walker art Center (Minneapolis) and performed at BAM in Brooklyn. His work is in the collection of the Whitney Museum and has been featured on the cover of Artfroum and the front page of NYTmes.com. He is a recipient of a 2018 United States Artists Fellowship and grants from the Creative Capital Foundation and the Open Society Institute. He works in a range of media including performance, photography, screen-printing and video.
His current project, Slave Rebellion Reenactment, will restage and reinterpret Louisiana's Revolt of 1811. This uprising, on the outskirts of New Orleans, was the largest rebellion of enslaved people in American history. With 500 reenactors, the reenactment will animate a hidden history of people with an audacious plan to take up arms to fight for their emancipation by ending slavery.
Ibrahima Seck is a member of the history department of Cheikh Anta Diop University of Dakar (UCAD), Senegal. His research is mostly devoted to Louisiana. In 1999, he defended a doctoral dissertation entitled, "African Cultures and Slavery in Lower Mississippi Valley from Iberville to Jim Crow." He is also the academic director of the Whitney Heritage Plantation Corporation.
LaKisha Michelle Simmons is the author of Crescent City Girls: The Lives of Young Black Women in Segregated New Orleans (2015), which won the Southern Association for Women Historians' Julia Cherry Spruill Prize and received an honorable mention for the Association of Black Women Historians' Letitia Woods Brown Memorial Book Award. She has published articles in American Quarterly, Gender & History, The Journal of the History of Childhood and Youth, and Tulsa Studies in Women's Literature. Simmons is an assistant professor of history and women's studies at the University of Michigan, Ann Arbor, where she earned her doctorate. Before coming back to Michigan, she taught at Davidson College and at the University at Buffalo, State University of New York.

Simmons is also a co-creator and -organizer of the Global History of Black Girlhood conference, which convened at the University of Virginia in 2017 and from which she is currently coediting an anthology. She is also currently writing a book on the history of black motherhood called "Segregated Motherhood," which explores reproductive health and histories of love and loss in black families, and beginning a new research project on black women's labor in rural Louisiana since Reconstruction
Daphne Thomas, a native of Franklin and long-time resident of New Iberia, is a businesswoman, children's book author & illustrator, storyteller, performing artist and amateur family historian. She is founder of the New Iberia-based summer enrichment program for young girls, Building Beauty Inside and Out (BBIAO). In summer 2017, as part of the Purchased Lives slavery exhibit at New Iberia's Bayou Teche Museum, Mrs. Thomas performed several Iberia Parish slave narratives. She also served on a focus group organized by New Iberia's Shadows-on-the-Teche plantation home as part of a 2018 National Trust for Historic Preservation assessment.
Jessica "Millie" Tilson Sr. is a direct descendant of the slaves sold to save Georgetown University in 1838. Her mother is from Maringouin, La. and her father is from Lottie, La. She is a single mother of two wonderful children - Jessica Tilson, Jr. (17 years old) and Jessalynn Tilson (5 years old). She has a B.S. in Microbiology from Southern University and A&M College. She enjoys research - investigating/researching the "known" as well as searching for the "unknown".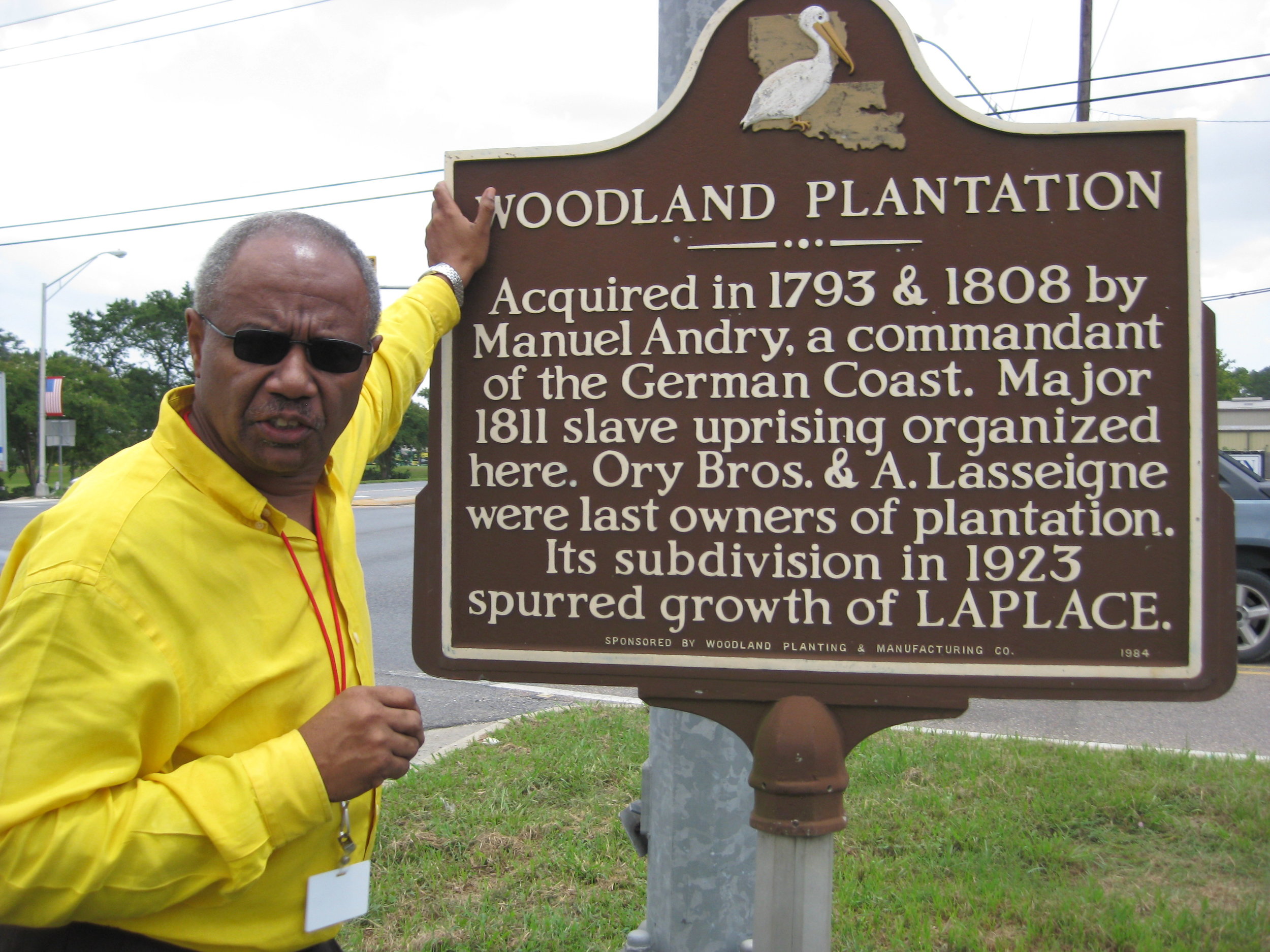 Leon A. Waters passionately works as a licensed tour guide for Hidden History Tours, a division of Hidden History. Mr. Waters is also a founding member of the Louisiana Museum of African American History located in New Orleans, Louisiana. As a young child Mr. Waters was first introduced to history by his elder cousin Clara Duncan affectionately known as Kizzy. She lived thirty miles of New Orleans in Montz in St. Charles Parish. Her father and uncle were enslaved on the Delhomme plantation.

Both would later serve in Co. E 16th Regiment Infantry of the Corps d' Afrique of the Civil War. Waters' great great grandfather was Hanniball Waters, a cousin to Clara Duncan. He was a runaway slave, a maroon, from the James Brown plantation called Roseland of St. Charles Parish. Hanniball Waters would later serve in the 1st Heavy Artillery Corps d'Afrique of the Union Army in the Civil War. He and his comrades would avenge their people in contributing to the military defeat of the slave holders.

Waters would learn from his cousin Kizzy that his ancestors were very rebellious during enslavement. She shared with him the story of a big slave revolt that happened during her grandparents' time. This was the revolt of 1811 led by Charles Deslondes. The descendants of these rebels would continue the fight through the Civil War and Reconstruction, the General Strike of 1892, the Great Depression, lynchings, World War II, urban rebellion of the 1960s, and modern-day disaster capitalism.